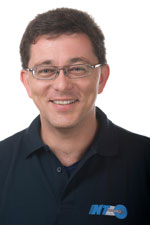 Kai Götschel
Handling and storage
Executive Director
direct dialing: +49 (0) 991 / 371 70-30
or -46
fax: +49 (0) 991/ 371 70 - 72
mobile: +49 (0)171 - 752 01 11
kai.goetschel@nt-logistics.com
EN Site
Hassle free from here to there. And in between.
NT Hafenspedition does not only assume responsibility for the organisation, realisation and supervision of transports via land, water and air: We are also the perfect partner for the easy combination of different traffic routes.
The best basis is the excellent location of our headquarters: The harbour of Deggendorf, where our headquarters are based, is the perfect gateway between the Danube (with a connection to the RMD channel) and the street. Thanks to the existing tracks even the connection between waterways and railways are possible.
We also take care of the handling:
With powerful equipment, scales and if required the complete customs handling on site, we complete our handling services. If temporary storage should become necessary, you will also find the best conditions. We administer our own storage facilities, enable the subsequent treatment of material at the transfer site and offer storage for containers. For us handling and storage are important components of logistics. As a matter of fact, that is why we think that it is so important to offer professional support and highly trained contact persons.
In order to satisfy our high standards when it comes to handling, we have created our own specialised department employing special trained and experienced employees. Because only what we do ourselves, we know will be in good hands.
Handling ships – TruckWaggon, directly or via storage facility
Individual goods
Producer good
Mass goods
Heavy goods up to 200t
Cargo securing in seagoing ships
Container handling: 20′, 35′, 40′ and HTG 7
Container storage
Container repair
Container cleaning
Depot keeping of container